Unleash your culinary creativity
Why did the acai berry powder apply for a job in the cosmic kitchen?
Because it wanted to add some "berry-licious" flavor to the universe's smoothies and make the galaxies swirl with delight!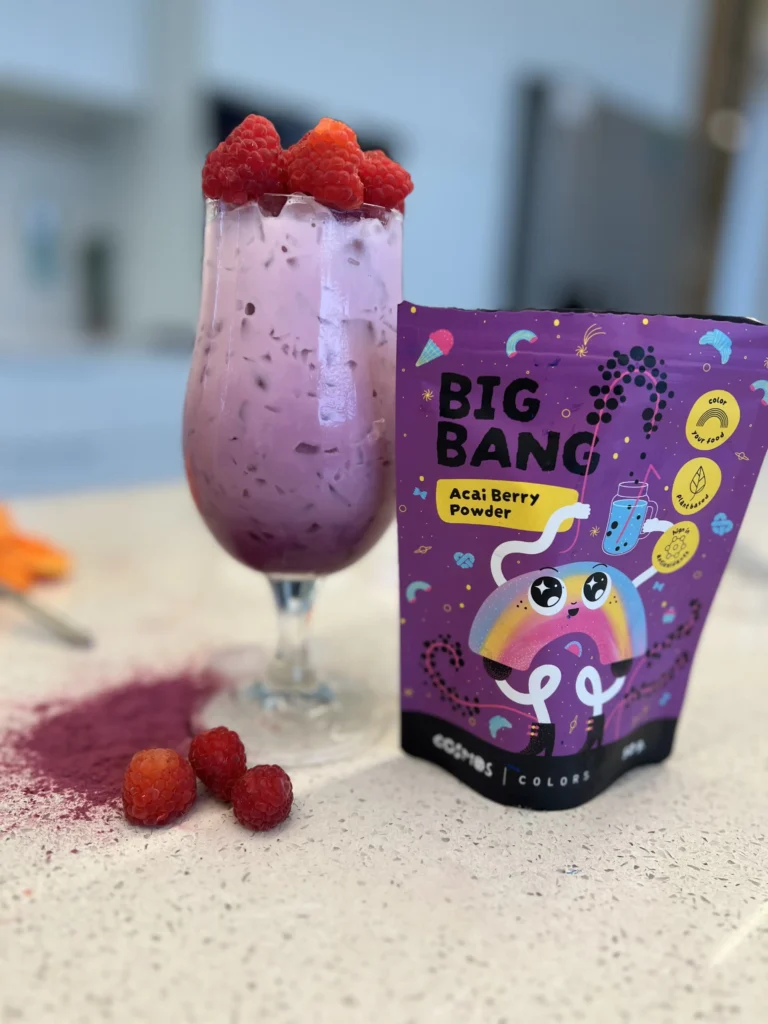 BigBang – Acai Berry Powder
Introducing Big Bang, an extraordinary cosmic enhancer that unveils a deep royal purple hue to any of your culinary creations. Powered by the mighty Acai Berry Powder, it infuses dishes with a burst of cosmic color – it's like the Big Bang of flavors exploding in your mouth! Perfect for smoothies, desserts, lattes, baking goodies, breakfast foods, and yogurts. This stellar ingredient is not only visually stunning but also packed with an array of healthy cosmic elements. Let the Big Bang ignite your culinary universe and indulge in an intergalactic adventure!
How to use it
Immerse your recipes in a cosmic infusion by adding 1-2 tsp, or as desired, of our celestial creation, for a nourishing boost that is truly out of this universe.

Blast off into a world of incredible taste with Big Bang – it's like a flavor explosion in every bite!
Benefits:
Introducing these natural powders into a child's diet can be a rewarding experience for parents, offering opportunities for creativity, education, and improved nutrition for their little ones.
Nutritional Peace of Mind: Parents can have peace of mind knowing that they are providing their children with natural and nutritious ingredients. These products are packed with vitamins, minerals, and antioxidants that contribute to their child's well-being.
Healthy and Happy Kids: These products can help promote better health in kids. Parents may notice increased energy levels, improved digestion, and a generally happier and more active child.
Culinary Adventures: Introducing these powders into recipes can turn mealtime into a fun and educational adventure. Parents and children can bond over cooking and trying out colorful and tasty creations together.
Creative Food Exploration: Parents can witness their children's creativity as they experiment with these colorful powders to make vibrant smoothies, desserts, and snacks. It's an opportunity for kids to explore their culinary talents.
Educational Moments: Using these powders as a way to teach kids about different foods, cultures, and health benefits can be rewarding. Parents can enjoy watching their children learn and become more informed about nutrition.
Natural Sweetness: Some of these powders, like acai berry and yacon root, can be used as natural sweeteners. Parents can reduce their child's sugar intake while still satisfying their sweet cravings.
Convenient Nutrition: These powders offer a convenient way to add nutrition to a child's diet. Parents can easily incorporate them into various recipes, ensuring their child gets essential nutrients without fuss.
Vibrant and Fun Meals: The colorful nature of these powders can make meals more visually appealing. Parents can experience the joy of seeing their child excited about eating colorful and nutritious foods.
Variety in Diet: These products allow parents to diversify their child's diet, introducing them to a wide range of flavors and nutrients. This variety can lead to a more adventurous palate in the long run.
Healthier Choices: Parents can take pride in making healthier food choices for their children, knowing that these powders are a step toward a more wholesome diet.