Unleash your culinary creativity
Take your dish to the next galaxy – your taste buds deserve a cosmic adventure with blue spirulina powder.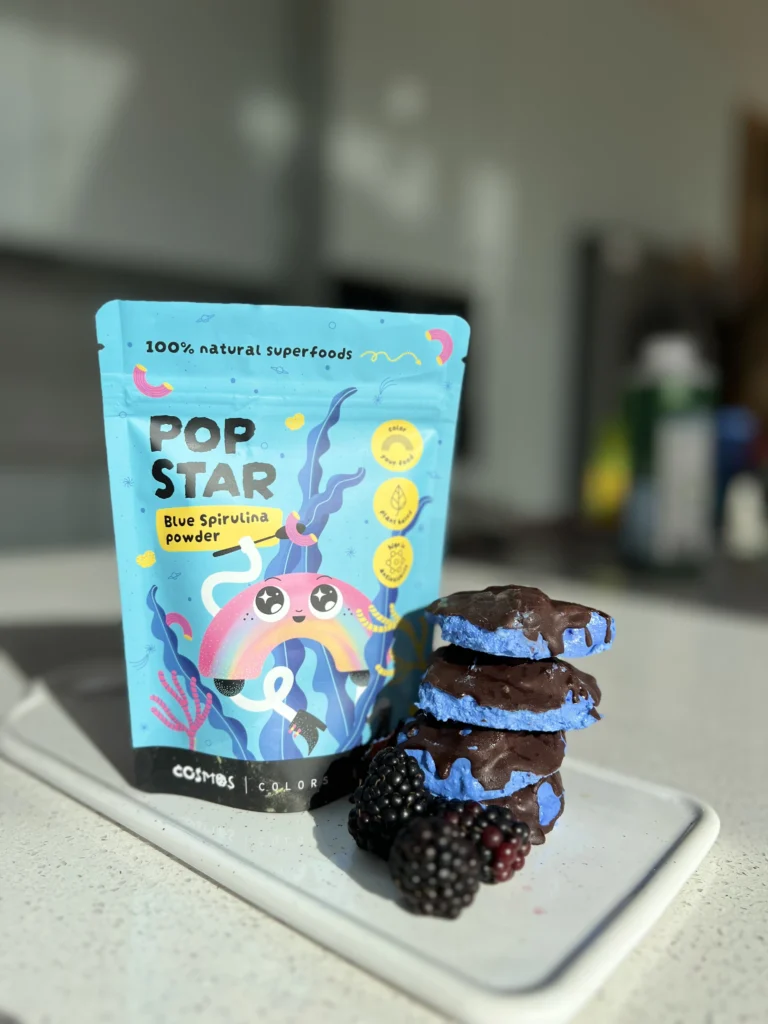 PopStar – Blue Spirulina Powder
Prepare to witness culinary magic unfold as visionary chefs and gastronomic adventurers from all over the galaxy embrace the enchanting powers of this gem. Just as rockets rely on fuel to soar through space, we harness the extraordinary potential of blue spirulina supercolor powder as our culinary rocket fuel. This starry powder, derived from blue-green algae, carries a storied legacy that traces back to the Aztecs, who revered the cosmos and used the powder to make Tecuitlatl cakes. The Pop Star pairs seamlessly with yogurts, smoothies, desserts, and intergalactic baked goods. Embrace the cosmic nature of our creations, where colors may morph and evolve alongside the wondrous ingredients in the universe.
How to use it
Indulge in galactic creations by incorporating 1 tsp of Pop Star into your smoothies, raw delights, baked wonders, stardust-infused noodles, cosmic pasta, and beyond! Let your imagination take flight among the stars as you explore the limitless possibilities of the Pop Star.
Benefits:
Introducing these natural powders into a child's diet can be a rewarding experience for parents, offering opportunities for creativity, education, and improved nutrition for their little ones.
Nutritional Peace of Mind: Parents can have peace of mind knowing that they are providing their children with natural and nutritious ingredients. These products are packed with vitamins, minerals, and antioxidants that contribute to their child's well-being.
Healthy and Happy Kids: These products can help promote better health in kids. Parents may notice increased energy levels, improved digestion, and a generally happier and more active child.
Culinary Adventures: Introducing these powders into recipes can turn mealtime into a fun and educational adventure. Parents and children can bond over cooking and trying out colorful and tasty creations together.
Creative Food Exploration: Parents can witness their children's creativity as they experiment with these colorful powders to make vibrant smoothies, desserts, and snacks. It's an opportunity for kids to explore their culinary talents.
Educational Moments: Using these powders as a way to teach kids about different foods, cultures, and health benefits can be rewarding. Parents can enjoy watching their children learn and become more informed about nutrition.
Natural Sweetness: Some of these powders, like acai berry and yacon root, can be used as natural sweeteners. Parents can reduce their child's sugar intake while still satisfying their sweet cravings.
Convenient Nutrition: These powders offer a convenient way to add nutrition to a child's diet. Parents can easily incorporate them into various recipes, ensuring their child gets essential nutrients without fuss.
Vibrant and Fun Meals: The colorful nature of these powders can make meals more visually appealing. Parents can experience the joy of seeing their child excited about eating colorful and nutritious foods.
Variety in Diet: These products allow parents to diversify their child's diet, introducing them to a wide range of flavors and nutrients. This variety can lead to a more adventurous palate in the long run.
Healthier Choices: Parents can take pride in making healthier food choices for their children, knowing that these powders are a step toward a more wholesome diet.